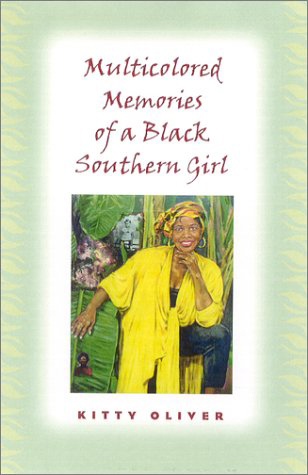 (The University Press of Kentucky, $25.00/hardcover, $17.95 paperback) Kitty Oliver takes readers on a journey of exploration from her hometown of Jacksonville to the halls of the University of Florida as one of its first African American freshmen in 1965 and far beyond. One reviewer describes it as "a thinking woman's memoir of a journey with many side trips" in her search for a sense of "home." With humor, poignancy, and lyrical language (reminiscent at times of another Florida writer, Zora Neale Hurston), Oliver shares her passages from the "old world" to the new as an immigrant's journey, indicative of the American experience. Blending past and present, she searches for roots from the Gullah or "Geechee" culture of South Carolina to the urban streets of northern Florida to the multicultural mix of South Florida, exploring America, Europe and Africa. These autobiographical essays are an upbeat journal – part travelogue, part memoir, described as "a delightful field trip" that's educational, too. Part of the Women in Southern Culture series. For information and ordering contact The University Press of Kentucky (1-800-839-6855).
Dr. Kitty Oliver is a veteran journalist and academic, an author and oral historian, a media producer, and a professional singer with an MFA in Creative Writing, specializing in literary nonfiction and memoir, and a Ph.D. in Comparative Studies, focusing on race and ethnic communication.
A product of the civil rights era who came of age with integration in the U.S., she brings an innovative perspective to race and ethnic relations sharing research and stories across cultures in Race and Change dialogues where people can explore race in a hopeful, progressive way.
She is founder of the cross-cultural Race and Change Oral History Archive, the largest of its kind in size and scope, housed in Special Collections at the African American Research Library and Cultural Center. Her books and television documentaries are used widely in public schools, college classrooms, and community forums. She has also assembled an online resource of Race and Change programs for youth including an iTunes radio channelfeaturing stories of scores of native-born and immigrant college students and teens.
In 2019, she presented the first "Agents of Race and Change Award," to encourage today's youth who are building bridges across the racial and ethnic divide. Signup for the email list for information on how to submit a nomination.
Watch her in a brief but pivotal segment of the recent award-winning Ron Howard documentary film on the Beatles – "Eight Days a Week: The Touring Years" – where she shares personal experiences with the band and segregation in Florida. Her cross-cultural intergenerational race and ethnic relations work was also chronicled by CNN.
You can hear her original inspirational music on the CD "The Calling of Our Time" that she also shares as an entertaining aspect of her Race and Change public presentations.
Kitty O. Enterprises, Inc.
1323 SE 17th St., #108, Ft. Lauderdale, FL 33316