The Race and Change Initiative promotes a 21st Century discussion of race and differences in cross-cultural public forums using archival oral history interviews, video and Web radio programs, and creative performance presentations.
Dr. Kitty Oliver is a veteran South Florida journalist, author, oral historian, and university professor with a Ph.D. focusing on race and ethnic communication. She has been featured on CNN news, "Black in America," for her race relations work. She is also president of Kitty O. Enterprises, Inc., a cultural diversity consulting firm based in Fort Lauderdale, FL, and director of the new Race and Change Initiative at Florida Atlantic University.
The director is Dr. Kitty Oliver, an author and TV producer and adjunct professor of oral history writing and race and ethnicity within the School of Communication and Multimedia Studies in the Dorothy F. Schmidt College of Arts and Letters. This site is generously funded by the Community Foundation for Palm Beach and Martin Counties and the Knight Foundation Fund, and New Visions Educational Foundation, Inc.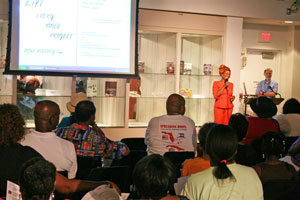 The Race and Change Initiative is an innovative 21st century approach to dialoguing about differences across races and ethnicities. It includes over 125 audio-taped and videotaped interviews of Whites, Blacks, Hispanics/Latinos, and Asians collected for the historical Race and Change Oral Histories archive, television documentaries, and podcasts, as well as university courses and community action workshops. The Youth Outreach Project creates intergenerational bridges across cultures as college students and teenagers of diverse immigrant backgrounds produce radio broadcasts and videos on the race relations experiences of their peers and elders.
For more information and bookings, contact:
Kitty O. Enterprises, Inc.1323 SE 17th Street, #108, Fort Lauderdale, FL, 33316
(Phone) 954-382-0793